Returning to the Board of Trustees.
I spent several months serving as design manager on the small 7-person "advance team" establishing the California Online Community College. This advance team engaged the design and innovation firm IDEO (my alma mater) to conduct deep user research on both working-adult learners as well as rank-and-file hiring managers in California. As a follow up to my November 2018 presentation to the Board of Trustees regarding working-adult learners, I returned to the BoT in January 2019 to present similar research on hiring managers. The presentation, including a snapshot of IDEO's work, is memorialized at minute-marker 00:23:14 here.
Convincing a board of trustees.
As design manager and overall enterprise designer for the California Online Community College, part of my job entailed bringing a newly-formed board along on the journey of user research. Getting to know the deep desires of real working-adult learners across the state and pairing their personal stories with quantitative data helped paint a fuller picture around the mission of the new online college, cementing a visceral image of whom we aim to serve and how. Check out the design-research presentation at minute-marker 01:08:50 here.
Representing the work of a large team.
Design is often about artifacts — do we have a physical chair we can show onstage? do we have a motion app we can run alongside it? — but at the end of the day, it's the human experience of interacting with these artifacts that matters most. Systems UX is a design unto itself, and somebody has to explain it. In this case, that somebody was me — on behalf of IKEA, in front of 300 international journalists, inside a warehouse in rural Sweden, during June of 2018, memorialized here on YouTube.
Claiming a big idea on behalf of IKEA.
In June 2018, IKEA publicly claimed the idea of custom, 3D-printed furniture before a huge audience of international journalists. After presenting the complete design system onstage — eSports chair + augmented-reality app — at Democratic Design Days in Sweden, several reporters picked up the news and ran a few stories, like this piece by Quartz. This is a photo of the team backstage right before showtime.
Figuring out what lies beneath the surface.
Interviewing eSports gamers on behalf of IKEA was not only a journey in human understanding—it was discovery of a burgeoning world. PC gaming has long been popular, but it was always reserved for the most hardcore (and typically very young) players. Things are changing—a lot. Players from a generation ago have grown up, and casual observers now have easy ways in with platforms like Twitch. New world, new needs.
Going deep on design strategy.
After six [very] full months of user research, incessant complexity, and iterative systems design, our team at Tomorrow Partners finally revealed the complete design strategy to The Common App Board of Directors at their headquarters in D.C. Afterwards, one C-level executive said it was "the best strategy presentation he had ever seen."
Workshopping in Cambridge.
As part of the 3+ months of user field research we conducted for The Common App in the spring of 2017, my co-designer Sam Zucker and I ran two rapid-prototyping workshops with stakeholders in Cambridge—one for college and university admissions officers, and one for high school counselors. Here I am synthesizing brainstorming feedback on the fly.
User interview for The Common Application.
The Common App processes millions of college admissions applications every year. In 2017, the organization embarked upon human-centered strategic planning with Tomorrow Partners. Here, I am interviewing a high school senior about his experience applying for (and getting admitted to) college. I'll never forget when he told me the whole process felt "Hunger-Games-esque."
Real design living in the wild!
When Oakland tenants and landlords said they were tired of being pitted against each other, we realized the site IA could not start as most rent control sites do—by asking users to self-identify into one camp or the other. We eschewed that pattern altogether in favor of an "issues" approach where both sides view the same information on the same page at the same time—no secrets, no hidden corners, no battle camps. The site went live in March 2017.
Creating information architectures.
Interviews with Oakland tenants and landlords revealed that, yes, they are constantly at war—but they hate it. Both sides wished for a system that didn't pit them against one another—something a little less zero-sum and a little more resolution-oriented
User research + synthesis.
With a crack team of two other designers at Tomorrow Partners, we dug deep into the world of Oakland rent control and the attendant renter / landlord disputes. The city engaged us to root out core motivations on both sides and search for slivers of common ground.
Extensible wireframe system.
Once basic page concepts were solidified, I built clean wireframe sketches (in Photoshop on Wacom Cintiq) along with interchangeable content sketches to ensure that the design system could extend to any imagined content set.
Draft wireframe sketching.
Starting with pencil and paper helped clarify the systemic relationship between an index page and its second-level pages within a site redesign for a Sequence client.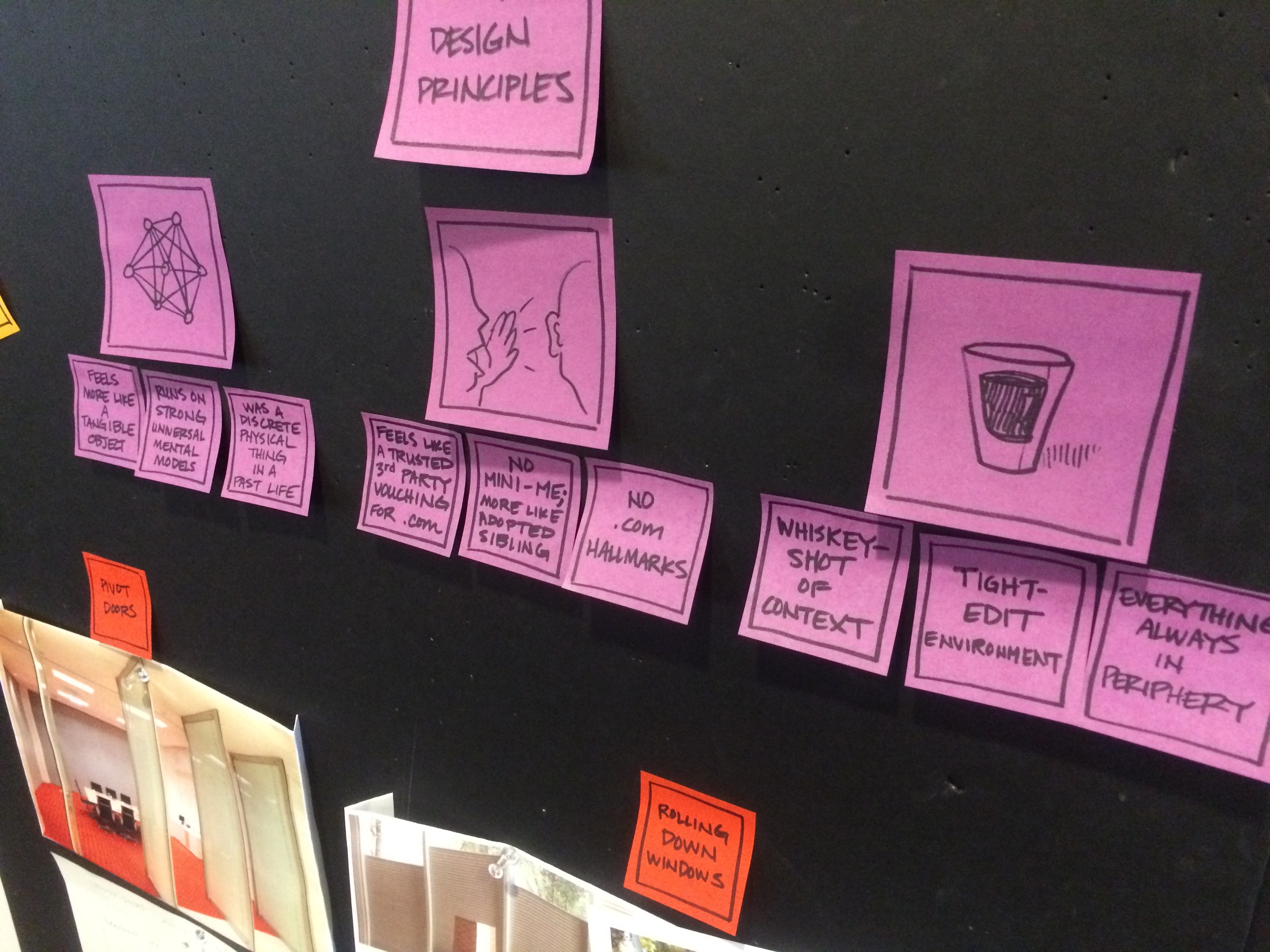 Writing design principles.
As we dove into concepting around a particular page type for a client at Sequence, I developed some guiding design principles to help keep the page unique from the rest of the site.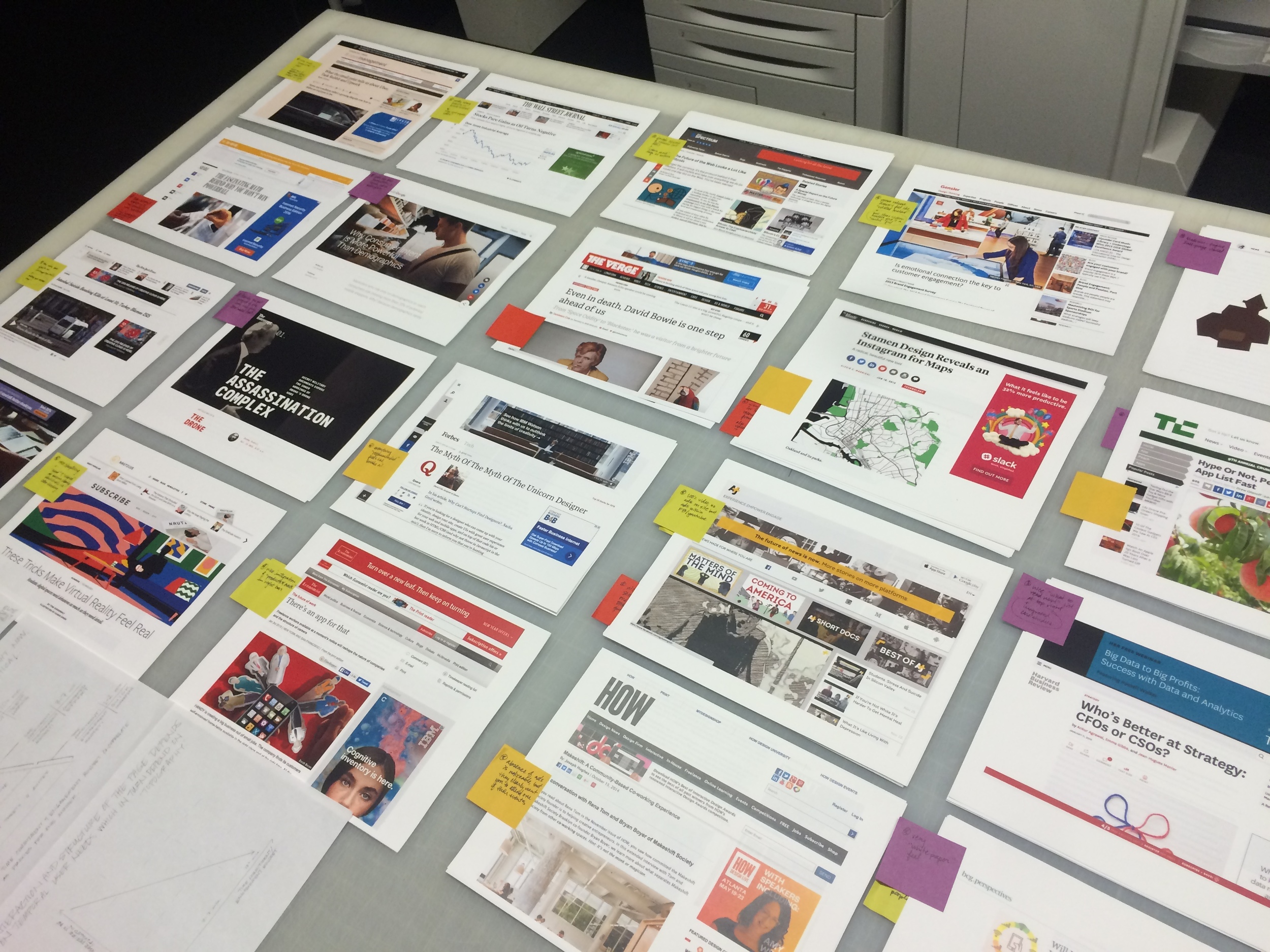 IxD trend scraping.
This Sequence client asked for a total redesign of brand identity and website. Before developing concepts for a new information architecture, I conducted a broad trend scrape of analogous sites and plotted the industry trends along a continuum.
Working on multi-disciplinary teams.
Our mood storyboarding eventually lead to this website and video for IDEO client ThePurposeProject.org which captured the work of a talented team that ultimately included design strategists, interaction designers, writers, illustrators, and a video specialist.
Collaborative storyboarding.
In collaboration with a project teammate, we developed these mood storyboards for a product video that illustrated the value proposition of a new-to-the-world offering.
Interactive data visualization.
Mental model sketching eventually resulted in this interactive visual model for an IDEO client that needed a method for visualizing the "heaviness of the lift" under different launch strategies. Created and delivered in MS Excel.
Leading strategy.
As a newly-designed product for an IDEO client neared launch, I led the discussion around business models and go-to-market strategy.
Mental model brainstorming.
I start by sketching a mental model on paper. Here, I was brainstorming an interactive strategy model to help an IDEO client visualize its future after launching a web and mobile application for students.
Connecting students to industry in Idaho.
At IDEO, I designed the business model and inter-organizational economic system undergirding this new high-school-to-workforce experience that supports young people in rural Idaho.
Interactive systems modeling.
Intensive field research lead to a deep understanding of this IDEO client's needs, resulting in a "business-model imagining" tool that enabled teachers from IdahoPTECH.org to visualize their future based on their own intuition. Created and delivered in MS Excel.
Design research.
Over the course of several months with an IDEO client, I spent time in the field with several young Idahoans including this aspiring dental hygienist. I got to ride in her dad's hot-rod.
The future of career colleges.
At IDEO, I helped lead this provocative work for Zenith Education Group, the not-for-profit subsidiary of ECMC that bought the struggling chain of for-profit colleges formerly known as Corinthian.
Active listening.
I will never forget the story of this young woman just outside of Dallas. Her journey from homelessness to career college graduate is unforgettable.
Spreading ideas.
I am interested in applying the notion of "net present value" to non-financial situations as a framing device. I use this scribble to illustrate and spread the concept of NPV to other colleagues at work.
System mapping.
When the University of California committed to reducing its carbon footprint, I developed a system map to clarify for laypeople the infrastructure underlying natural gas production in the state.
Interactive cost modeling.
Aided by a detailed system map, I was able to build out this interactive carbon-cost model used to pitch individual University of California campuses on the idea of joining a statewide renewable energy effort. Created and delivered in MS Excel.